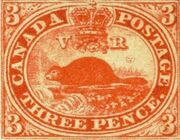 The Three Penny Beaver, the first Canadian stamp was designed by Postmaster General James Morris. He was assisted by Sandford Fleming. who was a surveyor of the Grand Trunk railway and the inventor of the time zone system. It was first printed on laid paper in 1851, but this was switched in 1852 to wove paper because the laid paper copies were having trouble adhering to the envelopes. In 1858, a perforated version was issued.
Ad blocker interference detected!
Wikia is a free-to-use site that makes money from advertising. We have a modified experience for viewers using ad blockers

Wikia is not accessible if you've made further modifications. Remove the custom ad blocker rule(s) and the page will load as expected.