The Penny Black was the first stamp to use adhesive. The stamp was issued on May 1, 1840. The Penny Black was made because of the idea of having some sort of way to show shipping was prepaid. Penny Blacks are not very rare. There were about 68,808,000 stamps made and 286,700 sheets made. However, complete sheets of Penny Blacks are extremely rare and the only known complete sheets are in the British Postal Museum.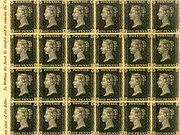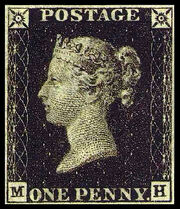 Ad blocker interference detected!
Wikia is a free-to-use site that makes money from advertising. We have a modified experience for viewers using ad blockers

Wikia is not accessible if you've made further modifications. Remove the custom ad blocker rule(s) and the page will load as expected.